Faculty and Alumni Spotlight: T. Missy Balmir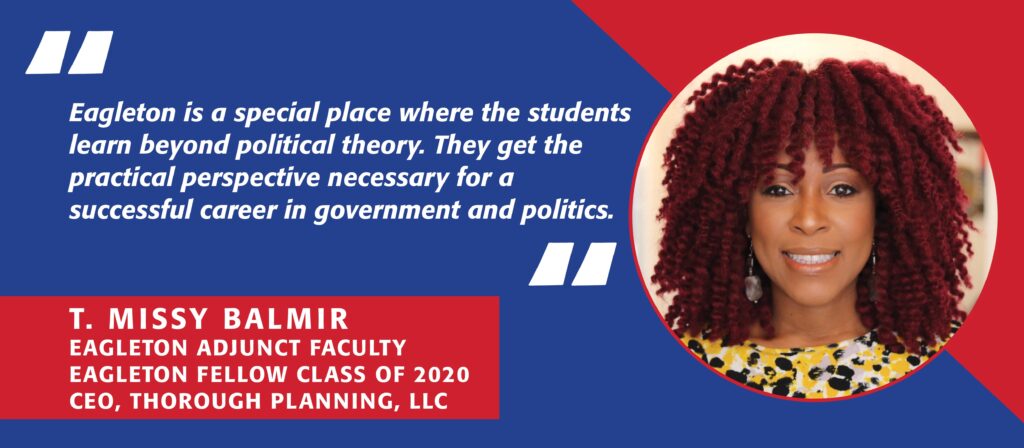 November 23, 2020 – This fall, T. Missy Balmir joined Eagleton as an adjunct faculty member and is co-teaching the Eagleton Graduate Fellowship course, Perspectives on American Politics, with  Peter McDonough and Joseph Doria.
Balmir is a political expert whose political career has spanned both the public government side as well as the campaign side of American politics. Balmir is an alumna of the Class of 2000 from the Eagleton Graduate Fellowship Program.
Eagleton Undergraduate Associate Caleb Kuberiet interviewed T. Missy Balmir to learn more about her career, how her interest in politics developed, and the role Eagleton played in helping her to share her professional career.
Q&A with T. Missy Balmir
What is your role at Eagleton and what does the Institute means to you?
I'm currently co-teaching the Perspectives in American Politics class with Joe Doria and Pete McDonough.
I've been involved with the Institute for almost 20 years — first as a student, then as a frequent visiting alum, and now as an adjunct faculty member — so Eagleton has been a part of my life my entire professional career.  I couldn't be more excited to share all that I learned during my time at Eagleton and as a practitioner with the students.
How did you become interested in politics?
During my freshmen year in undergrad (not at Rutgers), I was an English major.  I enrolled in an Understanding American Politics class as an elective. I quickly understood that politics had dictated so much in life without me knowing it and that I had the ability to truly understand these decisions that impacted my life.  I quickly changed my major to political science.
Why did you decide to pursue a career in politics?
Once I realized that understanding government and politics was one of the keys to serving marginalized communities, I knew it was the profession for me.
What advice do you give to students who are interested in pursuing a career in government or politics?
Don't be discouraged by what you are seeing today in our country.