Talking Politics – Promoting Respectful Discourse in the Classroom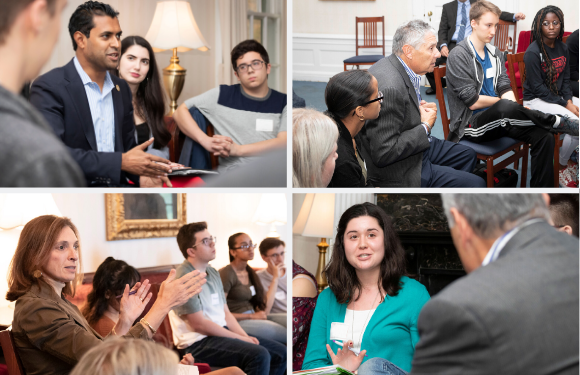 November 5, 2019 — Undergraduate students are learning how to engage in productive and respectful political conversations in an Eagleton course, Talking Politics: Disagreeing Without Being Disagreeable. Dr. Elizabeth C. Matto, associate research professor and director of Eagleton's Center for Youth Political Participation, teaches the course alongside Randi Chmielewski, director of institutional planning and external affairs at Eagleton.
The course is premised on the notion that, in order for democracy to work, citizens need to be able to talk to each other. During the seminar, students consider why engaging in honest and respectful political discussion is integral to American democracy's success and explore productive ways to go about it.
The course gives students the opportunity to observe, analyze, and engage in a range of politics discussions along with distinguished faculty members and political practitioners. Earlier in the semester, Eagleton director John J. Farmer, Jr. joined students in the class in a discussion about political speech on college campuses.
The class also had the chance to speak with two Eagleton Undergraduate Associates as well as New Jersey State Senator Vin Gopal and Senator Robert Singer, who spoke about engaging in respectful political discussions across party lines and perspectives.
Learn more about the courses Eagleton offers and other ways students can get involved with the Institute.