Attend an Event
Hatchet Man:
How Bill Barr Broke the Prosecutor's Code and Corrupted the Justice Department
Join Eagleton for a conversation with Rutgers/Eagleton alum and CNN Senior Legal Analyst Elie Honig about his new book and national bestseller, Hatchet Man: How Bill Barr Broke the Prosecutor's Code and Corrupted the Justice Department.
Honig is the executive director of the Rutgers Institute for Secure Communities and previously served as deputy director, and then director, of the New Jersey Division of Criminal Justice (2012-2018).
From the Publisher: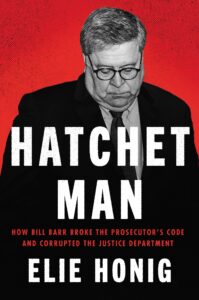 CNN Senior Legal Analyst Elie Honig exposes William Barr as the most corrupt attorney general in modern U.S. history, with stunning new scandals bubbling to the surface even after Barr's departure from office.  
In Hatchet Man, former federal prosecutor Elie Honig uncovers Barr's unprecedented abuse of power as Attorney General and the lasting structural damage done to the Justice Department. Honig uses his own experience as a prosecutor at DOJ to show how, as America's top law enforcement official, Barr repeatedly violated the Department's written rules, and those vital, unwritten norms and principles that comprise the "prosecutor's code."
In Hatchet Man, Honig proves that Barr trampled the two core virtues that have long defined the department and its mission: credibility and independence – ultimately in service of his own deeply-rooted, extremist legal and personal beliefs. Honig shows how Barr corrupted the Justice Department and explains what we must do to prevent this from ever happening again.
About the Author:
Elie Honig serves as a CNN Legal Analyst. He provides commentary and analysis for CNN on-air and in print on breaking news relating to criminal justice, national security, and other legal issues, including a weekly column and on-air segment "Cross-Exam with Elie Honig." Honig also serves as a faculty associate at the Eagleton Institute of Politics.
Honig also serves as Executive Director of the Rutgers Institute for Secure Communities, an umbrella entity whose primary goal is pushing Rutgers to the forefront of criminal justice, policing, and national security issues.
Honig obtained his undergraduate degree from Rutgers College (New Brunswick) in 1997. As a Rutgers undergraduate, Honig was selected as an Eagleton Institute Undergraduate Associate; completed the General Honors Program; served as a student government officer; and was inducted in the Cap and Skull Society.
About the Moderator:
Ava Majlesi is the associate director of the Miller Center for Community Protection and Resilience (CPR) and director of the Center for Critical Intelligence Studies (CCIS). She also serves as Program Director for the Rutgers Intelligence Community Center for Academic Excellence, a designation and grant award the University received in January 2015, and program director for the minor in critical intelligence studies through the political science department at the Rutgers –New Brunswick School of Arts and Sciences.