Remembering Florence Peshine Eagleton
November 16, 2020 – November 22nd marks the anniversary of the death of Florence Peshine Eagleton, the Institute's founding donor and namesake.
A New Jersey high school student, Anna Baird-Hassell, learned about Florence Peshine Eagleton's legacy as a suffragist during her internship at a local New Jersey chapter of the League of Women Voters. After learning more about Florence Peshine Eagleton, Anna created a project to recognize the suffragist's legacy and leadership by installing a commemorative plaque to mark one of Florence Peshine Eagleton's former homes in the Forest Hill neighborhood of Newark.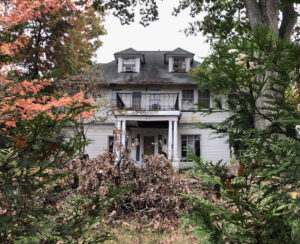 Learn more about how Anna is working to recognize Florence Peshine Eagleton in the following Q&A.
How did you first hear about Florence Eagleton?
Since my sophomore year, I have interned with my local chapter of the League of Women Voters. The first project I worked on was a readers' theater for high school students about women's suffrage in light of the centennial of the 19th amendment. In order to create the script, I researched many suffragists including Florence Peshine Eagleton. She was not only a standout among leaders of the movement to establish voting rights for women, she was also a New Jerseyan and the first president of the Newark League of Women Voters, so her work was very meaningful to the other interns and to me.
How would you describe Florence Eagleton and her legacy?
Florence Peshine Eagleton's primary goal was women's suffrage. After, her goal was to inspire ideals of citizenship and political education for young women. Her largest achievement was her bequest which established the Eagleton Institute of Politics at Rutgers University. This Institute is the culmination of her goals and achievements as a suffragist. Every day, young women learn how to become more thoughtful political leaders, a role that was not nearly as accessible or acceptable for women of her time.
What is the project you are working on and how did you make this happen?
I am working on the installation of a commemorative plaque to mark the Eagletons' former home in the Forest Hill neighborhood of Newark. In September, I started a GoFundMe to raise the required funds of about $300. Since then, I have reached my goal and sent the money to the Newark Preservation and Landmarks Committee. The president of the Committee, Elizabeth Del Tufo, has been very helpful in making this project happen. Once the inscription has been written and the plaque is created, it will be placed at the home at 212-214 Elwood Avenue.
How will the project help recognize and memorialize Florence Eagleton's life mission and work?
The Newark Preservation and Landmarks Committee directs tours through Newark that visit each of the commemorated sites. By installing this plaque, not only will passersby be able to learn about Eagleton's achievements, but everyone who attends these tours will hear her story. Additionally, because the house is currently in disrepair, this plaque will ensure the home is preserved. Memorializing Florence Eagleton's home in Newark will show her work in the city and in New Jersey as the first president of the Newark League of Women Voters, a leader of the state's Women's Political Union, Vice President of the New Jersey Woman Suffrage Association, and founding donor to the Eagleton Institute of Politics.
What is the most interesting thing you learned about Florence Peshine Eagleton?
Florence and her husband, Wells Phillips Eagleton, made a deal: whichever one of them survived the longest would be able to donate their combined wealth to a cause of their choice. Wells Eagleton was a neurosurgeon and, fittingly, wanted to dedicate their money to medical research, but he died before Florence in 1946. Consequently, Florence gave more than $1 million to establish the Eagleton Institute of Politics, which would have not been created had Florence died first.
What do you hope others learn from this project and from Florence Peshine Eagleton?
I hope others recognize her accomplishments within the context of her generation. Florence Eagleton made significant achievements to further the rights of women in a time when most women deferred to their husbands on matters outside of the household. She was a trailblazer and inspired not only other women of her time, but countless students who have studied at the Eagleton Institute. The best way to honor her and her legacy is to exercise the rights she helped establish for women — most importantly, to vote.
Are you interested in public service and politics? If so, why?
Yes! During the 2016 election, I became very politically engaged and have since enjoyed exploring different facets of politics and public service. Although I'm not sure exactly what direction I'll pursue, I am studying political science because public service is, in my opinion, one of the most rewarding careers you can have. Despite the deep partisan divide in politics right now, I have hope that there is a brighter future where politics can truly serve people and give a voice to the voiceless.