Harold H. and Reba Martin Legacy Fund
Harold and Reba Martin established the Harold H. and Reba Martin Legacy Fund at the Eagleton Institute of Politics to support the Eagleton Graduate Fellowship Program in Politics and Government.
The Harold H. and Reba Martin Legacy Fund at the Eagleton Institute of Politics supports the Graduate Fellowship Program in Politics and Government, an interdisciplinary certificate program open to graduate students on all Rutgers campuses from any school or discipline who would like to further an interest in American politics and government. Eagleton Fellows bring a wide variety of interests and perspectives to the program. Students recently in the fellowship have represented more than 45 disciplines from 19 different Rutgers graduate and professional schools.
Thanks in part to the generosity of Harold and Reba Martin, the Institute offers tuition remission and stipends to selected Eagleton Fellows each year while they complete an internship in a government office and continue their graduate studies.
Harold Martin was born in 1918 in West New York, New Jersey. His family later moved to Brooklyn, New York where Harold attended New Utrecht High School. Harold, a Rutgers alumnus, earned bachelor's and master's degrees from the university with majors in political science and economics. He enlisted in the United States Army in 1943-46 during World War II, where he achieved the rank of second lieutenant, serving in counterintelligence and in the design of amphibious assault vehicles. Following his military service, Harold worked as a research economist at the Federal Reserve Bank of New York and as an editor for the Shell Oil Company. He also worked as an electronic sales representative and spent two years on Wall Street as an account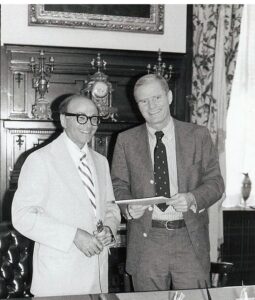 executive at Shearson, Hammill & Co. A resident of Cresskill, New Jersey, Harold began attending  council meetings and was appointed to the borough's planning board and the Bergen County Planning Board. In 1964, Harold was elected to the Bergen County Board of Chosen Freeholders (now known as the Bergen County Board of Commissioners). He was the first Democrat to be elected to the board in 50 years. In 1973, he was elected to represent the 39th District in the New Jersey General Assembly, where he served on the Education and Appropriations Committees. During his three terms in office, Harold worked on legislation reforming New Jersey public schools, taxes, and child custody. Harold passed away on October 19, 2010.
In 2009, the Eagleton Center on the American Governor interviewed Harold to document his experiences in New Jersey politics and public service, as well as his recounting of Governor Brendan Byrne's administration.
Read the transcript
.
Reba (Lerner) Martin, born in 1928, was one of five children raised by Ida and Nathan Lerner, Polish immigrants, in Englewood, New Jersey. Lerner graduated from Drew University in 1949 with a degree in Chemistry and went to work at Buitoni Pasta, testing the chemical composition of their products. Reba Lerner and Harold Martin met at a political rally. The couple married in 1956 and settled in Cresskill, New Jersey, where they raised four children, Gary, Terry, Sue, and Peter and were blessed with eight grandchildren. Reba served as a volunteer with the local school PTA and the League of Women Voters.
The Martins' generous support of Rutgers began in 1971. Their endowed funds provide direct support to students and further scholarship across a range of disciplines at Rutgers through the Harold H. and Reba Martin Endowed Scholarship Fund at the School of Arts and Sciences, Harold and Reba Martin Endowed Fund for Stem Cell Research, Harold H. and Reba Martin Endowed Fellowship Fund at the Edward J. Bloustein School of Planning and Public Policy, and the Harold Martin Chair in Mathematics.
Sources
https://en.wikipedia.org/wiki/Harold_Martin_(New_Jersey_politician)
https://www.legacy.com/us/obituaries/northjersey/name/harold-martin-obituary?pid=146146979
https://prezi.com/p/8jxstsd_buvu/family-tree-project-geography/
https://governors.rutgers.edu/wp-content/uploads/2020/07/TR-Martin-interview.pdf
https://www.legacy.com/us/obituaries/legacyremembers/reba-martin-obituary?id=37016355