Attend an Event
Gambaccini Civic Engagement Series:
A Conversation with Andrew Peng
As part of Eagleton's Gambaccini Civic Engagement Series, Rutgers Alum Andrew Peng will discuss his story of civic engagement and political empowerment through journalism as founder and editor of The Yappie.
Andrew Peng (he/him) is a Communications Associate at OCA-Asian Pacific American Advocates and co-founder of The Yappie, a nationally-recognized publication that covers policy news and activism affecting Asian American and Pacific Islander (AAPI) communities. A San Diego, California native who was raised on the East Coast, he graduated from Rutgers University-New Brunswick in May 2021 with a B.A. in communications and political science.
Prior to joining OCA full-time in June 2021, Andrew interned with a variety of government agencies and nonprofits in Washington, including the U.S. Department of Education's Office of Educational Technology (OET) and Asian Americans Advancing Justice | AAJC. On campus, he managed public relations for the 2021 MARK Conference and served as the communications intern at Rutgers Leadership and Experiential Learning.
A member of the Asian American Journalists Association, Andrew's coverage of AAPI politics has been featured in POLITICO Playbook, Yahoo News, and elsewhere. In his free time, he enjoys tweeting, photography, and eating soup dumplings.
About the Moderator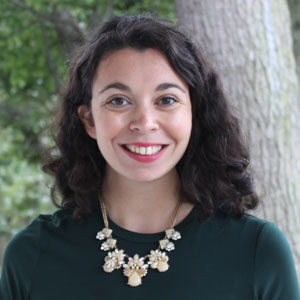 As Program Manager for the Center for Youth Political Participation, Jessica Ronan is responsible for implementing the RU Voting and RU Ready programs. In her role, Jessica recruits and works with a team of interns and students, develops materials for each program, facilitates the Center's event series during the semester and curates CYPP's social media and website content. Additionally, she is the administrator of the Rutgers-Eagleton Washington Internship Award program; a donor supported award program supporting undergraduate students interested in interning in Washington, D.C. over the summer break.
About the Gambaccini Civic Engagement Series
The 
Louis J. Gambaccini Civic Engagement Series
 was designed to promote civic engagement through an annual discussion of timely and enduring issues of great significance, with the objective of generating real civil discourse and action. The program was established through the generous support of Lou Gambaccini's family, friends and colleagues to honor his outstanding legacy in public service and his lifelong dedication to upholding the highest standards of civic responsibility, always striving and inspiring others to leave communities better and more beautiful than they found them.