Attend an Event
100% Democracy: The Case for Universal Voting
Join Eagleton for a conversation discussing 100% Democracy: The Case for Universal Voting with co-authors E.J. Dionne and Miles Rapoport. The event is presented in co-sponsorship with Eagleton's Center for Youth Political Participation and the Center for Election Reform Inc.
The authors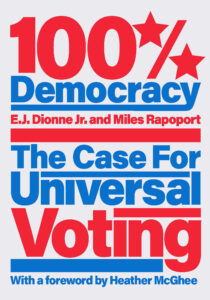 discussed their new book making the case for mandatory voting in conversation with the Honorable Travis L. Francis, an Eagleton visiting associate and former NJ assignment judge, and Professor Elizabeth C. Matto, director of the Institute's Center for Youth Political Participation and a national expert on youth engagement and civic education.
From the Publisher:
A timely and paradigm-shifting argument that all members of a democracy must participate in elections, by a leading political expert and Washington Post journalist.
Americans are required to pay taxes, serve on juries, get their kids vaccinated, get driver's licenses, and sometimes go to war for their country. So why not ask—or require—every American to vote?
In 100% Democracy, E.J. Dionne and Miles Rapoport argue that universal participation in our elections should be a cornerstone of our system. It would be the surest way to protect against voter suppression and the active disenfranchisement of a large share of our citizens. And it would create a system true to the Declaration of Independence's aspirations by calling for a government based on the consent of all of the governed.
About the Authors
E.J. Dionne is a senior fellow at the Brookings Institution, a syndicated columnist for the Washington Post, university professor at Georgetown University, and visiting professor at Harvard University. He is the author of numerous books, including Code Red: How Progressives and Moderates Can Unite to Save Our Country.
Miles Rapoport is the senior practice fellow in American democracy at the Ash Center for Democratic Governance and Innovation at the Harvard Kennedy School. He formerly served in the Connecticut state legislature and as Connecticut's secretary of the state. He also served as president of Demos and Common Cause.