Eagleton Undergraduate Associates Class of 2020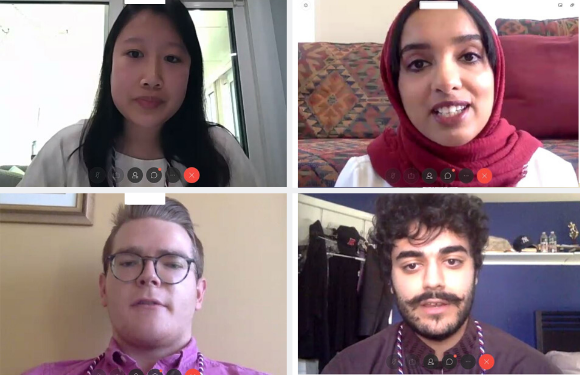 Tuesday, May 12, 2020 – Last week, 24 students graduated from the Eagleton Undergraduate Associates Program. The Class of 2020 included students from all three Rutgers campus locations. Some of the recent graduates are pursuing graduate school in criminal justice, law, and political science. Others are beginning careers at Goldman Sachs, Raytheon Technologies, the United States State Department, Procter & Gamble, as well as various political campaigns, non-profits, and grassroots advocacy organizations.
Eagleton hosted a virtual ceremony, which was attended by the senior and junior student cohorts, their families, and Eagleton faculty and staff. The program included remarks from faculty and class representatives who shared their Eagleton experience. Michael Aron, veteran journalist and NJTV news anchor, delivered the keynote speech that encouraged students to enter the field of public service and politics with the purpose of helping others.
"Helping people is the currency of the realm in the world of public service, a world that many of you are about to step into. Don't forget what it's all about – helping people. Many of you are going to enter this profession where helping people is so fundamental and you are entering at an incredibly peculiar and horrific time… I think if there is one thing we've learned from this experience, it's the we need government now more than ever. Fortunately, you all have a good Eagleton foundation to build on and to inspire you," said Aron.
Professor Din Ambar, who taught the UAs in the Practice of Politics course, challenged students to maintain the same open-mindedness that they demonstrated during class and to continue to appreciate opposing views throughout their career. "We can change our times with our talent sometimes… But be mindful as you go through the next stage in life. Keep in mind that temperament is sometimes more important than your talent and may have more of an impact during the times you live in than your talent," said Professor Ambar.
Francine Newsome Pfeiffer, vice president for federal relations at Rutgers University and an Eagleton adjunct faculty member, (who instructed the Internship Seminar UA course) shared, "Many of you will pursue careers in public service. Trust me, we need you, so I hope you continue to do that work. Lean on your passion and have that passion drive you. Carry that passion with you for as long as you can. I feel more confident about the future when I look at each of you."
Dr. Elizabeth C. Matto, who taught the Process of Politics UA course: "I know these are uncertain and challenging times. I urge you to persevere, to persist, and to meet these challenges with courage and even a sense of hope. I feel certain that you are up to the task. Our democracy will be better with your active participation."
Student representatives who addressed their classmates spoke about how the Eagleton UA program gave them a place to hear diverse political opinions and develop their own.
Ayesha Qureshi emphasized this point in her speech. She said, "In my classmates, I saw something that I never saw in a politics class before, we listened to each other, shared experiences and opened up to each other. I noticed that we grew into better versions of ourselves over the past 1.5 years and we will continue to grow. Thank you to Eagleton for providing the opportunity for us to meet lifelong friends and to learn from one another. Class of 2020, I have learned just as much from you as I did from our professors and I'm excited to see all we accomplish."
Click here to learn more about the graduating class.