Attend an Event
The Politics of Water and Lead:
The Role of Government in Disparities, System Vulnerabilities, and Social Determinants of Health
An Eagleton Science and Politics Workshop
Please see the link to the recorded video session here.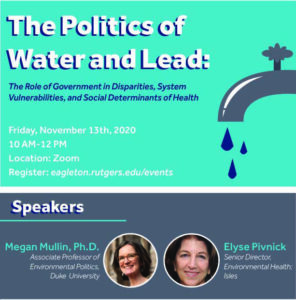 Join assistant professor of environmental politics Dr. Megan Mullin of Duke University and Elyse Pivnick of the Trenton-based community development and environmental organization Isles as they pull the curtain on the political structures, roles of local and national government, and system vulnerabilities behind one of America's most pervasive public health concerns.
Open to Rutgers audiences. If applicable, please register with a Rutgers email account.
Speakers:
Megan Mullin, Ph.D. – Associate Professor of Environmental Politics, Duke University
Elyse Pivnick – Senior Director of Environmental Health, Isles