Attend an Event
Albert W. Lewitt Endowed Lecture:
A Conversation with U.S. Congressman Darren Soto
As part of the Albert W. Lewitt Endowed Lecture Series, join United States Congressman Darren Soto (FL-09) for a virtual conversation as he discusses his approach to advocacy through legislative service at the state and national level. Rep. Soto is a Rutgers alumnus and the first person of Puerto Rican descent to serve in Congress from Florida.
In cosponsorship with the Rutgers Center for Social Justice Education and LGBT Communities, Rutgers Center for Latino Arts and Culture, Rutgers University Alumni Association, and the Hispanic Bar Association of New Jersey.
About Congressman Soto: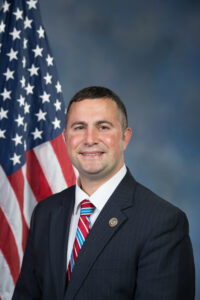 Elected in 2016, Congressman Darren Soto represents Central Florida's 9th Congressional District, which includes all of Osceola and parts of Orange and Polk Counties. He serves on the powerful House Energy and Commerce Committee and the Natural Resources Committee. The first Floridian of Puerto Rican descent to serve in Congress, he's also the Congressional Hispanic Caucus whip and the Future Forum Caucus chairman.
In just his first term in Congress, Darren passed four major bills to increase hurricane preparedness, hold foreign offshore oil drillers accountable, protect marine life like sharks and marlins, and to honor veterans in Central Florida. Through his legislative leadership, Rep. Soto has brought millions of dollars back to the district for disaster relief, high technology higher paying jobs, SunRail, affordable housing and local airports, to protect seniors and veterans, and to preserve the environment.
For over a decade Rep. Soto served in the Florida Legislature, where he fought to increase access to higher education, and ensure clean water, land, and air for his constituents. Soto passed landmark legislation protecting families in Central Florida. He also secured $25 million to build a state-of-the-art Valencia Poinciana college campus in the District, helped provide $10 million to save Florida's springs, and brought in $15 million for a high-tech sensors manufacturing facility.
Soto graduated from Rutgers University and George Washington University School of Law.
About the Moderator:
Elizabeth Matto directs Eagleton's Center for Youth Political Participation (CYPP), leading research as well as educational and public service efforts designed to encourage and support the political learning of high school and college students and civic action among young adults, including those holding and running for office. These projects include: RU Ready, a civic engagement initiative designed to provide high school students with the tools and encouragement to be civically and politically engaged in their communities; RU Voting, a project focused upon engaging Rutgers students in local, state, and national elections; and Young Elected Leaders Project, which involves maintaining a database of young people serving in public office nationwide at all levels of government, gathering data about young leaders' backgrounds and leadership styles, and building a network of young elected leaders.